BEAUTIFY & FORTIFY YOUR PROPERTY
Are you tired of your driveway and sidewalks looking cracked and worn? Protect your pavement with paver sealing from Family First Window & Pressure Cleaning in Palm Harbor! Our paver sealer can protect your pavement from sun and weather damage, filling in cracks and sealing out moisture to improve its appearance and deliver it long-term protection. Connect with us today to learn more and get a free quote!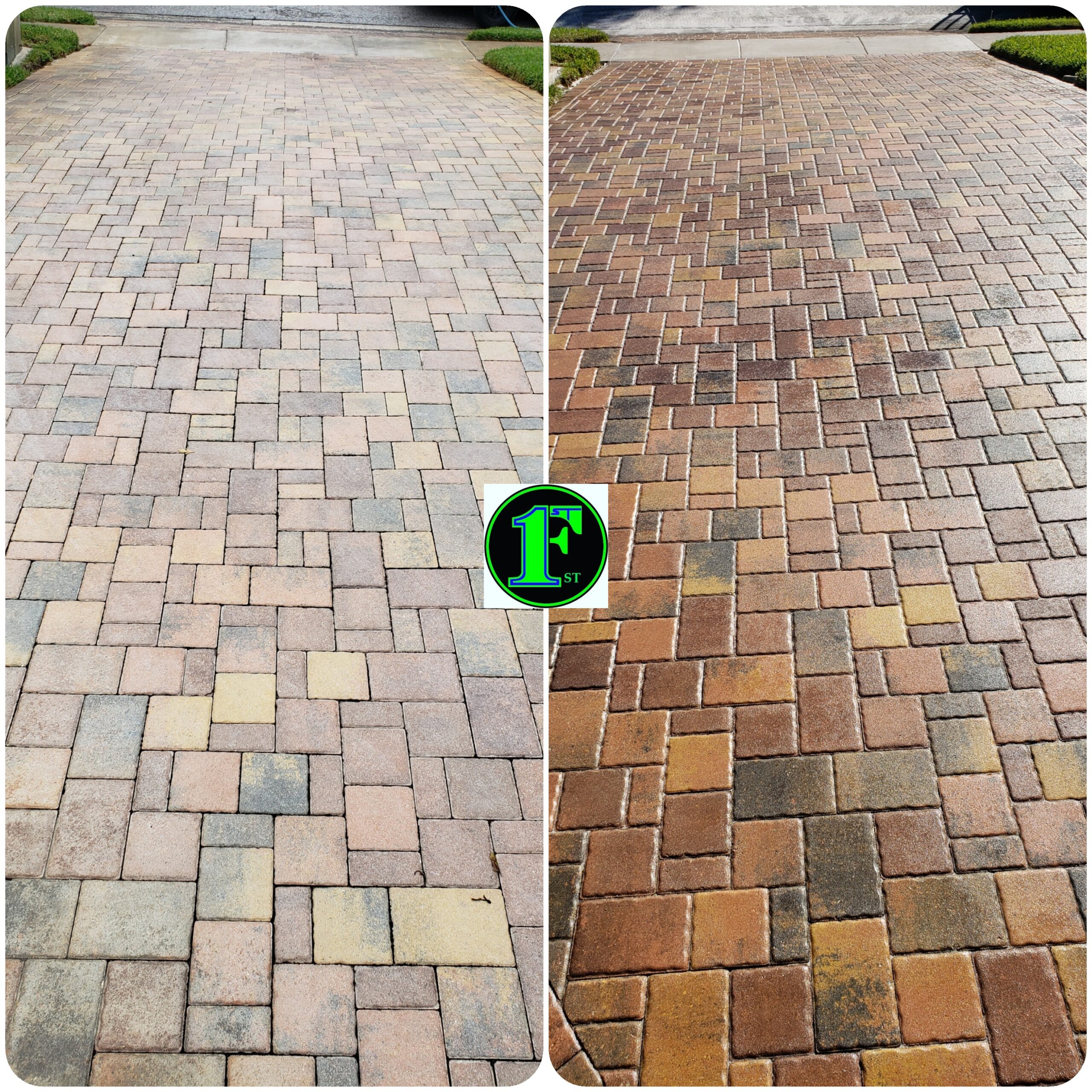 Paver Sealing Service From Family First Window & Pressure Cleaning Can Benefit Your Property:
Protect your pavement from moisture damage and weed growth

Improve the appearance of your concrete

Beautify and protect your driveway, front, walk, patio, and more

Prevent your sidewalk from being faded or cracked over time

Benefit from our nearly 20 years of paver sealing experience

Enjoy the caring customer service that only family-owned companies can offer
PROFESSIONAL PAVER SEALING
Keep your pavement in great condition and make it great to look at with paver sealing from Family First Window & Pressure Cleaning! We have the equipment, knowledge, and skill necessary to seal the pavement on and around your property to keep it immaculate. Paver sealer is a glossy, UV-protection oil-based acrylic sealant that keeps the pavement of your driveway, walkways, and more protected for years to come.
Areas We Serve
Palm Harbor
Pinellas County
Hillsborough County
Tampa Bay area
Why Get Paver Sealing?
We seal your pavers to keep out moisture and prevent weeds. Paver sealing also protects your pavement from fading in the sun or cracking easily. We apply sealer around the edges of your driveway and your yard to create a quality look you're sure to love!
Paver sealer seals soil and moisture in for plants, and it also makes for a wonderful look in your driveway or front yard. Our team specializes in paver sealer application so your property will look well cared for and tidy. Don't feel like you have to settle for cracked pavement or other wear-and-tear that occurs naturally over time. Get it healed with paver sealing!
Get Paver Sealing Service Today
Family First Window & Pressure Cleaning has the materials and skills necessary to provide your property with fine paver sealing work. We guarantee that our work will look great and keep your property's pavement together. We have served the Palm Harbor area, Pinellas County, or Hillsborough County in Florida for nearly two decades, and we know what it takes to get the job done right the first time, quickly and efficiently. We only use the highest quality materials and advise you on how to maintain your pavement once we have applied the sealer, so you can continue its maintenance with little to no effort on your part. Contact us to schedule paver sealing service today!